Princess Cheeky Runway
Two beautiful princesses - Jasmine and Elsa - can't believe their eyes! They've got an invitation to visit Victoria's Secret show! And guess what? They're going to perform as models! Luxury lingerie, cute and stylish accessories and of course famous Victoria's Secret Wings! Let them show their best catwalk catch all the flashes on the runway. Let's go!
How to play Princess Cheeky Runway
Mouse to play the game.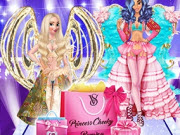 Play Game