Princess Dentist Game
Guess what? Four of your favourite Disney Princesses are in need of a super talented dentist to help them deal with their toothache and since you are the best one out there, you've been chosen to take a closer look. Queen Elsa, Ariel, Cinderella and Rapunzel are the four patients on your waiting list but due to your busy schedule and you will be dealing only with one of them. So join the girls in getting the 'Princess Dentist' game for girls started and begin by selecting your patient. Once the main decision was taken, you can then move to the next page of your game and use your dentist tools to fix all of those painful cavities. Move on and get rid of the bacteria living on her tongue. Great job, ladies! Now since you patient is feeling way better, you can also choose her a really nice top to dress her up with! Have a blast!
How to play Princess Dentist Game
Tap to play the Princess Dentist Game game!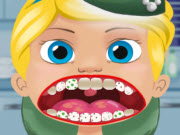 Play Game