Princess FaceSwap
All your favourite Disney characters, both princesses and villains, gathered in this super fun game for girls to try out Snapchat's funny face swamp feature. You ladies are not allowed to miss this out, so hurry up and get the 'Princess FaceSwap' game started and give them a precious helping hand. What you have to do while playing this game is pretty simple: first, choose your favourite Disney princess and dress her up. It can be Cinderella, Elsa or Ariel. Then go to the next page of the game and select your favourite villain as well. Maleficent, Ursula and Jared are your options. Make sure to choose something chic for your villain to wear today. Once you have both sides nicely styled up, you can then open the Snapchat app and hit the face swamp button. Funny the result, isn't it?
How to play Princess FaceSwap
Tap to play the Princess FaceSwap Game!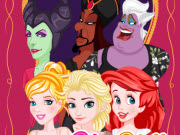 Play Game