Princess Maxi Dress
It's always time for a maxi dress somewhere in the world where the cold winter has not arrived yet and there you will find these gorgeous Disney princesses enjoying another day of light clothes, sandals and colorful accessories. Elsa, Tiana, Aurora and Ariel have decided to trick winter with a long trip to the sunny part of the world and you are invited to join them too as their personal stylista. That's right, in the 'Princess Maxi Dress' dress up game for girls you get to help the Disney girls deal with their summery looks as you enjoy the sunny weather somewhere in the Caribbean Islands.
How to play Princess Maxi Dress
Tap to play the to play the Princess Maxi Dress game!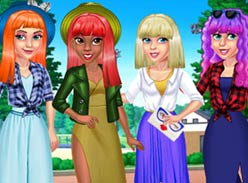 Play Game