Princess Or Minion
These four best friends are huge fans of the funky Minions so the came up with this challenging idea of wearing Minion inspired outfits for a whole week. It's going to be minion inspired outfits for their next night out or beach day… and it's going to be so much fun. You could also help them out by getting started the Princess Or Minion dress up game for girls. Once in feel free to browse though their wide collection of girly-girl, fit and flare dresses, lovely tops and matching pleated mini-skirts, cute over-tops and high heeled shoes - all of them available in different shades of yellow and blue - and see what jaw-dropping minion inspired looks you can put together for Princess Anna, Snow White, Rapunzel and Princess Ariel. Select some oversized goggles or a nice hat to complete their looks with! Have fun, ladies!
How to play Princess Or Minion
Tap to play the Princess Or Minion Game!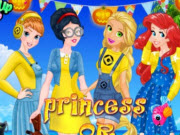 Play Game