Princesses Board Games Night
Winter is wonderful and we love to spend our time out in the snow, but sometimes winter can get really, really cold so we end up craving a cozy night spent inside. Elsa, Jasmine and Merida have decided that they would make the most out of the cold weather by spending a lovely night of board games and gossip. They want to create some wonderful memories together so they want the place to look absolutely perfect. Join them for a fun night by playing our brand new and exclusive game called Princesses Board Games Night. A cozy night requires cozy outfits so help the girls prep up by dressing them in wonderful outfits. Choose a cute top and cardigan and then add a pair of warm shorts and knee high socks to match. Choose a cute hairstyle to finish off the look and then go ahead and decorate the place. Choose the games the girls will be playing and then add some cute flickering lights to set the mood. Add pillows and blankets for extra coziness and choose a color and a pattern for the wonderful sofa. Have a blast spending a night of fun with your favorite Disney princesses!
How to play Princesses Board Games Night
Mouse to play the game.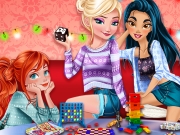 Play Game