Prom Ball at Princess School
Headmistress Lady Tremaine is preparing a fabulous prom ball at her Princess High School. Start with choosing a theme for the ball. Then help princesses Cinderella and Jasmine pick the most elegant gowns and accessories that would according to the theme. The princess, whose look would fit the theme perfectly, will become the prom queen!
How to play Prom Ball at Princess School
Use your mouse and follow the in-game instructions.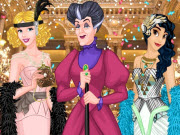 Play Game