Spring Princess Makeup
We are here to share with you a new html5 game - Spring Princess Makeup! There is a welcome the spring party at school. Everyone needs to dress up as a spring fairy. Mia is new at makeup skills, could you help her create a fabulous spring fairy makeup look? You could try some mint and pink eyeshaows to make her beautiful eyes pop out. To add a little fun, it's a nice idea to add some flower patterns on her face, too. Don't forget to select a floral headband for her, and the most important thing - a floral dress! Mia is definitely a gorgeous spring princess now! Let's go to the welcome the spring party together and have fun!
How to play Spring Princess Makeup
Use your mouse to play.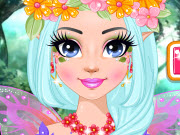 Play Game