wedding perfect makeup
The wedding day is the most important day for a girl, but if you want to make it perfect for a beautiful girl this game is just the chance you we are looking for. Try to add a nice foundation and create even a nicer makeup. Put colorful eyeshadows to match her lipstick and make sure you combine a beautiful clothing too. Take care of the lashes and do not miss the blush because that will make this wedding makeup ideal.
How to play wedding perfect makeup
Use the mouse to play this game.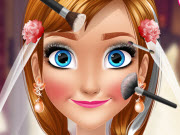 Play Game