Wonderland Fairy Princess
This Chinese fairy princess of Wonderland is so dreamy. She has the most luxurious and exquisite traditional godness outfits in her wardrobe. The best part is you could mix and match every piece of her dress and every part of her outfits to create brand new looks! Her hairstyles are so gorgeous. You could select her fringe, side buns and back of her hairdos to combine into a fantastic new hairdo! There are many accessories that you could only imagine. She has cute pets that you have never seen, too! Have fun dress up and design a dreamy look for the fairy princess of Chinese Wonderland!
How to play Wonderland Fairy Princess
Use your mouse to play.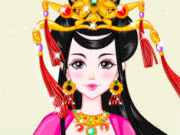 Play Game