highschool for princess
Come and play this girl game where you will learn something
about manners, good behavior at school, fashion and cleaning. Your job
is to make sure this high school princess has the best outfit for a day
at school. Use the given wardrobe to combine styles and put on some
makeup and accessories to complete the look. Next, you will have some
class rules remainder and in the end, you will clean the chemistry lab.
How to play highschool for princess
Play this princess game by using the mouse.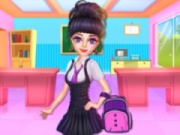 Play Game