Judy Eye Surgery
Judy and Nick were in pursuit of few thieves in the mountains and because of the air and the dangerous situations that she was, she got an eye infection. She needs her vision to be on the best for her next case and only a miracle doctor can restore her vision on such a short time. Take her to your doctor and have her eyes checked up, then clean the infection, the give her eye drops and some medicine to prevent any infection. Enjoy!
How to play Judy Eye Surgery
Mouse to play the game.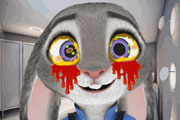 Play Game