judy Tooth Problems
Lt. Judy Hopps is going to the dentist for her routine check. Well, the doctor is not very happy after he saw her teeth. In the past year lots of chalks deposited on her teeth and the bacteria found its way to Judy s mouth. Help our doctor to give Judy her beautiful shining smile back. Remove the bad parts and polish her teeth. Have fun playing this game with Judy Hopps!
How to play judy Tooth Problems
Mouse to play the game.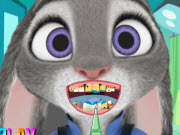 Play Game