Justin Bieber Face Treatment
Justin Bieber has canceled all concerts in 2015 because of a rash on the face. The eruption was caused due to skin creams, expired. Now Justin is very heavy, and does not want to have any concert until this issue is resolved. Justin's only chance is you, if you follow the instructions in the game that Justin will again the face , whit perfect skin, loved by girls around the world. Have fun in this game doctor!
How to play Justin Bieber Face Treatment
Mouse to play the game.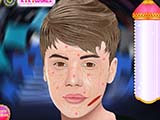 Play Game