kitties pet wedding
Gain experience as a wedding assistant planner in this cat
game. Their humans are about to be soulmates forever and you will help
all of them celebrate that. Arrange the bride and offer her a relaxing
face treatment. The kitties must take a bath and play a little so they
will be in a good mood. Wash them and dress them up with specific items
then you can also design the marriage certificate along with their final
photo.
How to play kitties pet wedding
In order to play this game you have to use the mouse
controller.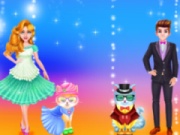 Play Game