Messy Agnes
Agnes, the beautiful daughter of Despicable Me is now present in your game where you have to get friendly with her and try to help. Because you played much with minionii it was dirty from head to toe, and now you have to go to the bathroom and to wash, to clean clothes and body, and you will have to help.
How to play Messy Agnes
Mouse to play the game.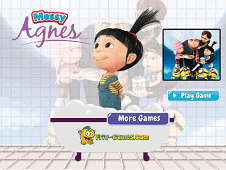 Play Game