pikachu doctor and dress up
In his last battle our little Pikachu got hurt and he needs immediately nursing so he will be able to fight against evil pokemons. Help him to get better in this doctor game and make sure you give him all the care he will need, wash him, bandage him and cut his fur. The next step is to deal with his outfit choosing clothing that will represent him while you improve your abilities of doctor and designer.
How to play pikachu doctor and dress up
Use mouse to play this game.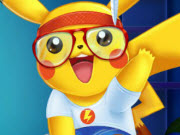 Play Game