Pregnant Ariel Injured
Ariel is pregnant, and you must help her because it is injured and wounded all over his body. First you will have to use the medicine cabinet underwater objects from stethoscope, injections, ice bag, tweezers will have to take the thorns that have entered Ariel skin so it does not sting the baby that Ariel is pregnant, then you can move on to the next game where you have to help Ariel to give birth new baby girl.
How to play Pregnant Ariel Injured
Mouse to play the game.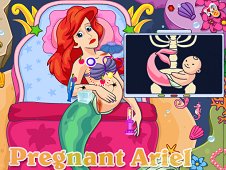 Play Game