Princess Anna Bridesmaid Makeover
Queen Elsa is getting married. As her bridesmaid, Princess Anna is very nervous. Could you help her prep for the wedding ceremony? Pamper her with nice and comfortable facial treatment to get rid of facial problems. Then apply the cosmetics to her and create a perfect bridesmaid look. The most important part is to select a gorgeous bridesmaid gown for Anna. Enjoy the happiness with Elsa and Anna!
How to play Princess Anna Bridesmaid Makeover
Use your mouse to play.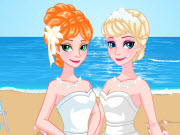 Play Game