Princess Christmas Fashion Rivals
Elsa and Ariel are both the fashion icons at school. They are best friends and also fashion rivals. Since Christmas is coming and there are many parties to attend, Elsa suggested to have a fashion contest on who has the best Christmas style and Ariel is more than happy to accept the chanllenge. Help the princesses match and mix what they have in wardrobe and create their best Christmas looks for the contest. Let's see who's got the higher fashion score and win the chanllenge! Have fun and Merry Christmas!
How to play Princess Christmas Fashion Rivals
Use your mouse to play.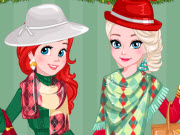 Play Game