Princess Island Resort Photo Album
Princess Amelia is having a vacation on a small island resort with beautiful views. Day 1, she plans to visit the local market. So some casual chic outfits would be perfect for the day. Day 2 she will have a sunbath on the beach. Do you prefer mini skirts or a maxi skirt with floral prints? A one-piece with blue and white strips would be perfect, too! How about a romantic candle dinner? She will need a formal dress with nice cut and design. Match her dress with a delicate purse and some accessories to create a perfect look. For each look, we could take a nice picture for her. Let's create a fashionable and memorable travelling photo album. Have fun playing this fun makeover games!
How to play Princess Island Resort Photo Album
Use your mouse to play.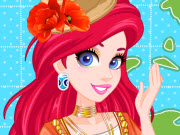 Play Game