Princess Sparkle Pink Party
Pink is princess Melissa's favorite color. Recently she has a crush for glittery things. So This weekend, when she decided to throw a theme party, which theme would she choose? A pink sparkle party of course! Let's help her select a cute glittery and pink party dress, get her hair done and pick the most dazzling accessories to complete her party look. I would suggest a pair of pink glittery shoes, a pink sparkly clutch, and a cute pink dazzling short dress! Enjoy the princess sparkle pink party game for you girls!
How to play Princess Sparkle Pink Party
Use your mouse to play.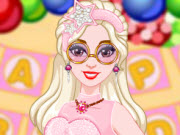 Play Game