Princesses At The Movies
In this lovely new game you get the chance to join the Princesses At The Movies because every Friday night Elsa, Rapunzel and Ariel like to get together and go out. The girls decided to go to the cinema this evening and they need to get ready. This time they won't have just a regular girl's night. Their crushes are also going to the cinema to watch the same movie so it's the perfect time for the princesses to spend their evening in the company of their crush. This means that the girls want to look fabulous so you must help them pick the perfect outfit. They would like to wear something casual and chic at the same time, because who knows what will happen after the movies. They might all go out to have dinner. Start with Elsa and choose a cute hairdo and a cute dress or a crop top matched with a polka dot skirt. Accessorize her outfit and move to the next princess. Ariel is thinking to wear her cute flower print skirt and you have to find a matching top. Rapunzel wants yu to find the perfect dress for her and matching accessorize. Have fun prepping up the girls for a fun night in this Princesses At The Movies game!
How to play Princesses At The Movies
Mouse to play the game.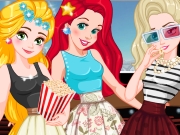 Play Game