Queen Elsa and Her Horse
The queen of Arendelle Elsa loves horse racing. She loves her horse as her dearest friend. Today Elsa wants to have a ride with her horse. Let's dress up Queen Elsa first with cute knight outfits. Then customize her lovely pony with different skins, manes and decorations. Have fun playing this cute fashion dressup game!
How to play Queen Elsa and Her Horse
Use your mouse to play.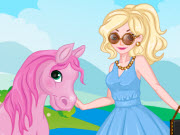 Play Game