Rapunzel Boyfriend Makeover
Rapunzel is a famous makeup blogger and vlogger. She accepeted the Girlfriend Does Boyfriend Makeup challenge on Facebook. Luckily for her, Flynn, her boyfriend is very supportive and is willing to be her contest model. Play this fun game called Rapunzel Boyfriend Makeover and see how Rapunzel turns her handsome boyfriend into a cute lady with her superior makeup skills, and also her very own fashion wardrobe. This is super hilarious and cute! Have fun playing this fun makeover game!
How to play Rapunzel Boyfriend Makeover
Use your mouse to play.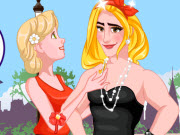 Play Game