Stewardess Rapunzel
Rapunzel always dreams of becoming a stewardess. Now her dream comes true. It's her first day working as a stewardess. Could you help Rapunzel prepare for working? First let's give Rapunzel a nice facial treatment. Use all the foam and creams to make Rapunzel's face fresh and clean. Then apply an appropriate makeup for work. Use pink, light purple and orange to create a comfortable makeup look. Then choose a stewardess uniform for Rapunzel. She looks flawless for her first day work! Have fun!
How to play Stewardess Rapunzel
Use your mouse to play.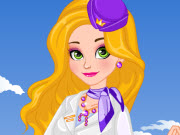 Play Game