Winx Girls Pool Party
Today winx girls have planned for a party. Stella, Flora and Musa hold the responsibility for the success of the party. You help them and see to that the swimming pool looks great with the exterior decoration. The party would commence in a few minutes. Thank you so much for decorating the pool in a grand manner. You would be appreciated if you impress the onlookers with your outstanding decoration.
How to play Winx Girls Pool Party
Mouse to play the game.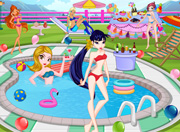 Play Game