Anna Wedding Prep
Anna and Kristoff are getting married! Anna is getting ready to give herself a facial and do her makeup, hair and get dressed in a beautiful gown for her big day! She's asked you to be her personal stylist for the day - so first you must give her a facial, get her dressed and put on her makeup. Have fun playing Frozen dress up games!
How to play Anna Wedding Prep
Mouse to play the game.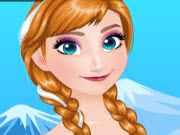 Play Game