beauty_girl_at_nail_salon
Play this manicure game and find out how it might surprise
you when it comes to creating a manicure and a perfect hand to represent
it. At the beginning of the game, you will choose the shape of the
nails, but you can change them in the end if you don\'t like them.
Execute spa treatments for the hand and the nails too. Clean the hand,
remove the extra broken nail. Continue the hand nursing in the next
step. Create a unique manicure and design each nail.
How to play beauty_girl_at_nail_salon
To play this game you will use the mouse controller.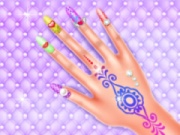 Play Game