ice cream truck cooking
This cooking game comes with more than a baking challenge and you have two steps ahead before you can even thing about the recipe. Your ice cream truck needs serious improvements and you are about to clean the mess from the previous adventure. Use the tools you have got in there and make it shiny again, then you have an interactive game which requires seek and find abilities. The last part is the cooking one.
How to play ice cream truck cooking
Play this game by using the mouse.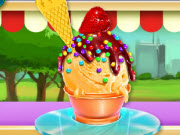 Play Game