Paper Cup Animals
Join Purple Pink the Bunny in DIY class! Let's learn how to create cute Papo animals out of paper cups! Have fun interact with your paper cup animals in mini games, too!
We are using paper cups to make easy and cute Papo animals like Purple Pink the Bunny, Luca the Dog, Zoe the Monkey and more! Following the instructions to cut the card boards as body parts, glue them on the paper cup and finally paint the cup animal with your favorite colors! There are 16 colors and a magic rainbow color brushes for your choices!
After the design phase, every Papo animal comes with a fun and hilarious mini game session. Do you want to dance with Purple Pink the Bunny? Or do you prefer playing hide and seek with Luca the Dog? Have a good time w ith your own paper cup animal creation!
Kids will enjoy the creativity and laughter in this game. It's also a great idea to have a DIY session at home and spend some quality time with kids! Just prepare paper cups, scissors, cardboard, glue and colored pens, then enjoy the craft time! Welcome to share your artwork with us!
How to play Paper Cup Animals
Use your mouse to play.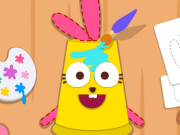 Play Game