Little Mermaid Prom Dress
The Underwater World is holding a prom party! Little Mermaid Princess is really looking forward to the prom night! She comes to your design center and ask for the most gorgeous prom dress! Let's get started and help mermaid princess design the whole look from a dress, the hairdo, the accessories and even the shoes! Let's make her the most stunning girl for the prom night! Enjoy!
How to play Little Mermaid Prom Dress
Tap to play.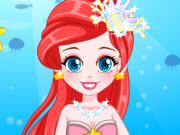 Play Game