Purple Pink Coloring Book
Attention please, little artists! Purple Pink the Bunny has the most incredible coloring book! Lots of pictures, tons of colors and tools! Create your painting artwork!
Inspire the creativity and imagination through coloring and painting
Easy Operations
Designed for children, there is just one operation: fill in colors with fingers! Beautiful lines could flow to wherever your fingers go!
Various Painting Tools
There are 7 painting tools for little artists!
Brush – a basic tool, suitable for thicker lines!
Pencil - suitable for thinner lines!
Paint Bucket - Fill in an entire area with color!
Watercolor pens - cute strokes with small dots, depicting different styles!
Glittery pens – the most popular tool! Make your artwork glitter!
Patterns—Add a little texture and pattern to your work!
Stickers - Lots of cute stickers to lighten up your artwork!
Pictures in Themes
We have picked children's Top 5 favorite themes!
Animals – Kids favorite characters including Purple Pink the Bunny, bird, pandas, and more!
Food - burgers, cakes, sweets, fruits and more!
Cars – A carrot car, an retro train, a magical unicorn car and more!
Houses – Kids dream houses like castles, forest cabins, farm barns, etc.!
Holidays - Christmas, Halloween and Easter! Bring a festive atmosphere!
Let's paint the world together!
How to play Purple Pink Coloring Book
Use your mouse to play.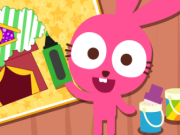 Play Game