Baby Old Outfits Refashion
Mom is organizing baby's outfits. She finds out some outfits are way too small for her baby girl because she has grown up so fast. Luckily mom is a DIY expert and she decides to refashion these outfits for her girl. Follow the instructions in game and help mom refashion some old t-shirts and pants into a cute shirt and a skirt. Reuse the fabrics and buttons to decorate the new outfits. When the refashion job is done, help baby girl try on her renewed outfits and create a new look! Have fun!
How to play Baby Old Outfits Refashion
Use your mouse to play.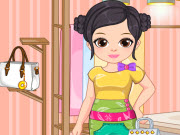 Play Game