Deluxe Princess Wedding
Elisabeth dreams of having a deluxe wedding like a real princess. So when a talent designer like you offers to design a deluxe wedding dress for her, she is so grateful and exciting. Let's tailor a perfect wedding dress gown shape, then match up with sleeves, collars and other cute decorations. When the dress is finally finished, match it with wedding veils, bouquet, shoes and other accessories. Have fun!
How to play Deluxe Princess Wedding
Use your mouse to play.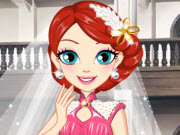 Play Game