Easy to Cook Vegan Chocolate Cake
Vegan chocolate cakes are really very easy to make and delicious to eat. Moana wants to gift her father. Because her father loves Moana and this Vegan Chocolate cake. But, today she plans to prepare this cake at home with your help. Can you help her in preparing this yummy cake? It is very simple, get ready with the ingredients on the ingredients page and move to the cooking section. Follow some simple instructions in the cooking area and complete the cake. Add some frosting to the cake to make it more beautiful. Moana is happy with your assistance and You can also prepare this cake at your home with your parental guidance. Have fun.
How to play Easy to Cook Vegan Chocolate Cake
Mouse to play the game.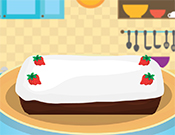 Play Game