Hijab Salon
Today you are going to be the super talented fashion designer in our Hijab Salon and you main your main task will be to design a veil accessory for the very first Isalmic client entering our store. Join her in getting the 'Hijab Salon' fashion game started and first of all, select a solid color for the head wrap which is the less seen part of this traditional veil. Then on the next page of the game, you get to select a really nice style for the veil's upper part, making sure to also cover it in playful prints and bright colors. Great job, ladies! Now on the next page of the game you get to customise your client's look by selecting from a wide variety of shades and shapes the ones you like the most. Make sure to match the designed Hijab with a floor-sweeping dress or with a two pieces mix and the right pair of shoes. Have a great time playing the 'Hijab Salon' fashion designer game for girls!
How to play Hijab Salon
Tap to play the Hijab Salon Game!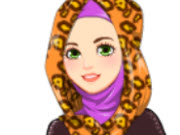 Play Game