Love Cupcakes for Mom
Barbara the little chef is going to make cupcakes for mom to show her love. But it's not that easy! Let's play this fun cooking game and help little Barbara finish the bakery! You will need to remember the sequence of the ingredients, learn how to mix everything in the right way, fill the right account of batter in paper cups and the most important part - decorate the cupcakes! Let's create some nice and delicious cupcakes and show out love to mom! Happy Mother's Day!
How to play Love Cupcakes for Mom
Use your mouse to play.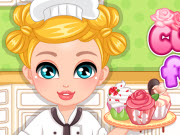 Play Game